How To Drive Sales Performance With An Enhanced Sales Process
In this article we're going to ask and answer 4 key questions:
1/ Everyone in sales knows Sales Process is really important. Or do they?
2/ Why is a Sales Process is a vital part of any sales training?
3/ Is a basic Sales Process enough to maximise performance levels?
4/ How can we assist in implementing a customer-centric, structured Sales Process for your organisation?
Let's take a closer look at the first question:
Everyone in sales knows Sales Process is really important.
Or do they?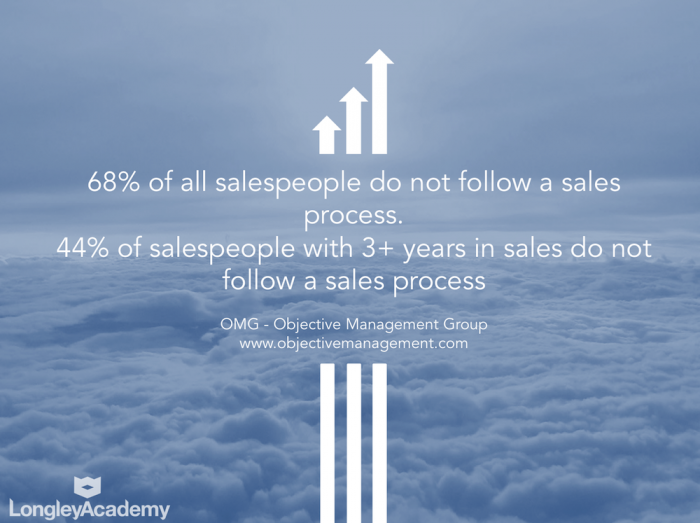 Why is it that so few companies embrace the importance of having a robust Sales Process? Is it due to the fact a 'sales process' has got a bad rep? Or is it because it sounds like an opportunity for management to micro manage a sales team?
Structured and well thought out processes are a key foundation without which excellence is impossible to achieve in many areas. Think military, professional sport, medicine etc.
Yet, you can still hear some sales leaders say:
'But selling is art. You can't apply a rigid process to the relationship a sales person has with his prospect or account manager has with this customer and expect results … it doesn't work that way'
That's all fine and great if you're a talented sales manager who genuinely does not need to follow a structured sales process. You might have never needed to take the time and analyse precisely why is it that you're achieving great results.
But if that's the case, what do you say to your salespeople in the moments of struggle, when they hit a difficult patch?
Is it: 'Go do some networking'?
Would it be: 'Get creative'?
Or maybe: 'Start updating your CRM, you will figure it out'.
Or worse still – is it 'Just get out there and ask for the business … you need to get better at closing'.
Can you, without a Sales Process in place, be a great coach to your salespeople? Are you able to delegate with confidence knowing that they understand what it takes to be successful? Can you really hold them accountable for their actions and results? Are you fully confident that your sales forecast WILL translate into real business in the timescales you have committed to?
Which brings us to the 2nd question:
Why is it that a Sales Process is a vital part of any sales training?
With an enhanced Sales Process in place it's so much easier to:
1/ set S.M.A.R.T. goals with your team and track their progress;
2/ have your CRM updated in a way that will give you an invaluable insight into where to provide training, support and coaching to deliver swift and measurable results;
3/ understand who to train and when to coach them to keep team performance at the required levels to hit and exceed targets;
4/ hold your salespeople accountable for their sales activity and pinpoint the risks in their forecasted opportunities;
5/ speed up the induction of new members to your sales team;
6/ create a culture for the members of your sales team who thrive in a disciplined, structured environment, where they can follow fool-proof steps in order to be successful.
Empty attachment or post type not equal 'attachment'
Since we've established that an enhanced sales process is vital to company's sales performance, it's time to design it and implement it.
This brings us to question no.3:
Is a basic sales process (Prospecting – Generating leads – Qualifying – Needs Analysis – Proposal – Negotiations – Closing) enough to maximise performance levels?
In short – no, it's not enough. It's a good start, but an ambiguous series of 'sales stages' will simply not do. The magic happens when:
a/ you tailor it to the needs of your organisation by making sure it reflects the specifics of your product, service, company culture and language, etc
b/ you make it customer-orientated by aligning it with your customer's buying cycle.
Which is where we step in.
How can we assist you in implementing a results focused and customer-centric sales process for your organisation?
The Longley Sales Academy creates structured sales processes for clients on regular basis that underpin their sales strategy, goals and objectives.  In doing so, we give sales people the confidence that they are following 'best practice' with every opportunity.
Hence, we'd like to share with you a template by Longley Sales Academy. It guides you step by step in designing your own enhanced Sales Process to fit your business, sales people and customers perfectly.
If you find yourself needing assistance when designing your organisation's Sales Process we're here to help. Give us a shout.